Skate on a Perfect Sheet of Ice
At the Pavilion, our $1.6 million, state-of-the-art ice system creates a smooth, professional, and sustainable surface available for a variety of great ice activities. Take a lesson, bring a friend, or go on your own during our public skate times.  
Public Skate Rates
Rates:
Youth (12 & under) & Seniors (55+) $6
Adults (13+) $8
Skate or Walker Rental $3
Youth or Senior 10 Visit Pass $50
Adult 10 Visit Pass $70
Group Rate (15 person min, includes skates) $6 per person
Combo Pass (same day admission for ice skating/Bounce House) $10
Group Lessons
The Pavilion offers a variety of ice skating lessons all year long. Explore the options below to learn more.
Learn to Skate Group Lessons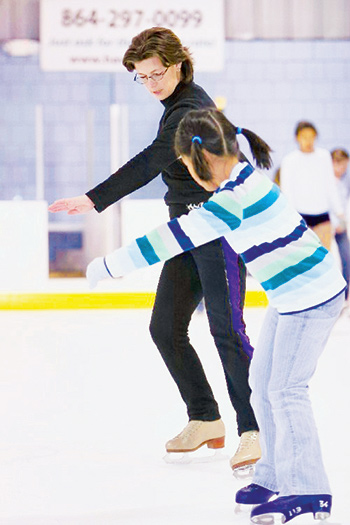 Learn how to skate through the US Figure Skating's Learn to Skate USA.
Cost: $100 for county citizens; $125 for out-of-county citizens (Skate rental and eight practice times are included in this cost).
Requirements: All participants are required to join or renew their annual USFS Basic Skills Membership. You must complete this registration before you can register for the Learn to Skate Group Lessons. A $20 fee is due at the time of enrollment.
Registration Deadline: One week before the start of the session.
Schedule: 30 minute classes meet on Mondays for eight weeks. Refer to the options below for times.
January 8 – February 26
March 5 – April 23
April 30 – June 25
July 2 – August 20
Snowplow Sam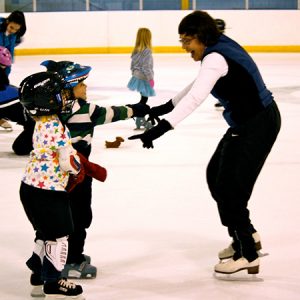 Curriculum: Learn standing, the proper way to fall and get up, marching forward, two-foot glide, dip, backward wiggles, rocking horse, forward one-foot glides, forward swizzles, backward swizzles, snowplow stop, and forward slaloms.
Eligible Ages: 4 – 5
Schedule: Mondays at 5:30 PM
Youth Basic Level 1
Curriculum: Learn marching forward, two-foot glide, dip, forward swizzles, backward wiggles, snowplow stop, rocking horse, and two-foot hop.
Schedule: Mondays at 5:30 PM
Youth Basic Levels 2 - 6
Curriculum: Learn edges, turns, forward and backward crossovers, and progress to three turns and elementary jumps and spins.
Schedule: Mondays at 6:00 PM
Pre-Free Skate & Free Skate Levels 1-6
Curriculum: The Free Skate levels are designed to give skaters a strong foundation on which to build their skills. At this point, the skater can choose whether to pursue a recreational or competitive approach to the sport of figure skating. Learn moves in the field, spins, dance/footwork sequence and jumps.
Schedule: Mondays at 6:00 PM
Adult Basic Levels 1 - 4
Curriculum: The Youth Basic Skills are adapted for adults.
Schedule: Mondays at 6:00 PM
Private Lessons
If you want to learn how to ice skate at your own pace, consider taking a private lesson. No matter your experience, a private lesson can help you hone your skills and become an even better skater!
To find an ice skating coach, visit isk8greenville.com.
Freestyle Schedule
Students must purchase ice time during their private lesson. For available skating times, view our Freestyle Skate Schedule. 
To learn about costs, session rules, scheduling, or other important information, contact Jarret Winget at 864.322.7529 x280.