Skate on a Perfect Sheet of Ice
At the Pavilion, our state-of-the-art ice system creates a smooth, professional, and sustainable surface available for a variety of great ice activities. Take a lesson, bring a friend, or go on your own during our public skate times.  
Public Skate Rates
Rates:
Youth (12 & under) & Seniors (55+) $7.50 +tax
Adults (13+) $9.50+ tax
Skate or Walker Rental $4.25 + tax
Youth or Senior 10 Visit Pass $65 + tax
Adult 10 Visit Pass $85 + tax
Group Rate (15 person min, includes skates) $7.50+ tax per person

Group Lessons
The Pavilion offers a variety of ice skating lessons all year long. Explore the options below to learn more.
Learn to Skate Group Lessons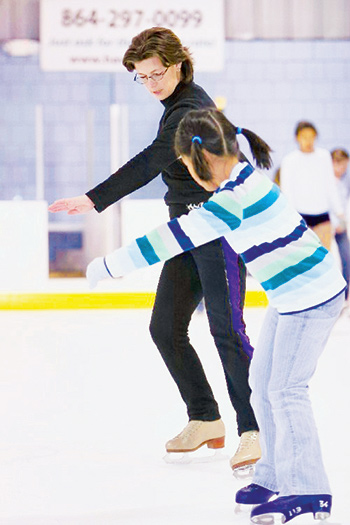 Learn how to skate through the US Figure Skating's Learn to Skate USA.
Cost: $105 for county citizens; $131.25 for out-of-county citizens (Skate rental and eight practice times are included in this cost).
Requirements: All skaters must register with Learn to Skate USA to participate. Visit learntoskateusa.com to register and affiliate with the Pavilion Skate School. Registration year is July 1st – June 30th.  A $16 fee is due at the time of enrollment.
Registration Deadline: One week before the start of the session.
Schedule: 30 minute classes meet on Mondays for eight weeks. Refer to the options below for 2024 session dates.
Jan. 8 – Feb. 26 (Register by Jan. 2)
Mar. 4 – Apr. 22 (Register by Feb. 26)
Apr. 29 – Jun. 24 (Register by Apr. 22)
Jul. 1 – Aug. 19 (Register by Jun. 24)
Aug. 26 – Oct. 21 (Register by Aug. 19)
Oct. 28 – Dec. 16 (Register by Oct. 21)
Snowplow Sam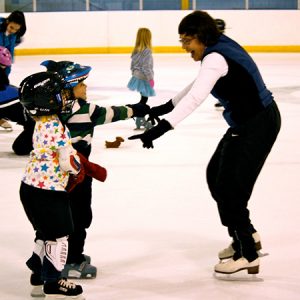 Curriculum: Learn standing, the proper way to fall and get up, marching forward, two-foot glide, dip, backward wiggles, rocking horse, forward one-foot glides, forward swizzles, backward swizzles, snowplow stop, and forward slaloms.
Eligible Ages: 6 and younger
Schedule: Mondays at 5:30 PM
Basic Skills
Curriculum: Basic Skills teaches the FUNdamentals of ice skating and provides the best foundation for figure skating, hockey, and speedskating. Six progressive levels introduce forward and backward skating, stops, edges, crossovers, and turns.
Eligible Ages: 6-17
Basic 1 Schedule: Mondays at 5:30 PM
Basic 2 – 6 Schedule: Mondays at 6:00 PM
Adult
Curriculum: The Youth Basic Skills are adapted for adults.
Schedule: Mondays at 6:00 PM
Private Lessons
If you want to learn how to ice skate at your own pace, consider taking a private lesson. To find an ice skating coach or stay up to date on figure skating news, please visit Greenville Figure Skating Club.
Freestyle Schedule
Students must purchase ice time during their private lesson. For available skating times, view our Freestyle Skate Schedule. Freestyle skate time is for figure skaters or private lessons ONLY, please see public session times for other skating needs. 
To learn about costs, session rules, scheduling, or other important information, call Bobby at 864.467.3482 or email rbrandt@greenvillecounty.org